Two holidays that celebrate our freedom coincide for a once in a lifetime celebration *.
The Thanksgiving holiday was founded by Abraham Lincoln in 1863 as a day of "Thanksgiving and Praise to our beneficent Father who dwelleth in the Heavens". A day to give thanks for the good in our lives; freedom from oppression, prosperity etc.
Chanukah is the Jewish holiday celebrating a miraculous victory over tyrannical oppressors some 21 centuries ago. For the duration of the eight days of Chanukah we add two prayers that express our praise and thanksgiving to G-d, for sparing our people and allowing our faith to continue to freely be practiced.
The mitzvah of Chanukah is to light candles in order to publicize the miracle.The menorah lighting was instituted as a publicity strategy: advertising to the entire world that G‑d makes miracles for those who stand up for truth and justice. We light the menorah in a doorway or in front of a window that is visible to the outside for all passersby to see.
The Rebbe introduced the idea of Public Menorah Lightings to the world by calling for large menorahs to be lit in public spaces, in order to publicize the miracle. The first public menorah was lit in 1974 by Rabbi Abraham Shemtov of Philadelphia, in front of the Liberty Bell.
Over the years, American Presidents publicly recognized the Chanukah menorah which serves as a great reminder of the meaning behind lighting the Menorah publicly. The religious freedom we cherish keeps the true spirit of this country alive: to create a haven of liberty for the practice of faith.
We don't have to scroll back too far into our history to remember that living a life free to practice our faith is nothing short of a miracle.
We have so much to be grateful for, so let's celebrate with joy and pride and share the light with anyone and everyone around us.
Have a Happy Chanukah and let us all give thanks!
~Nechama~
Picture of the week: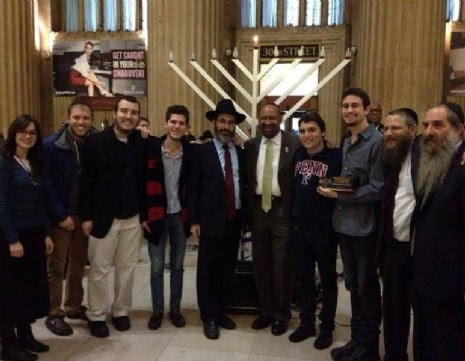 Mayor Nutter helped us light the Menorah at 30th St. Station yesterday